Jeremy Trafford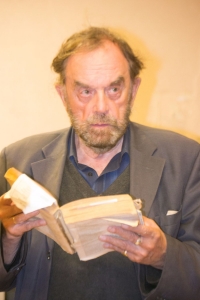 Colin Pinney writes:
It is with profound regret that I have to announce the deaths on consecutive days of two of our members: Jeremy Trafford and Oliver Williams (tributes to Oliver).
Jeremy Owen Trafford who succumbed to Covid-19 in Chelsea and Westminster Hospital on Friday 27 March 2020 aged 85 was one of our most long-standing members having joined in the mid 1990's. Besides serving on the committee he read most of the major Shakespearean roles; in particular the society opened the first season of the new century with Jeremy's reading of King Lear in January 2000. He also presented a detailed introduction to our reading of the sonnets.
On some occasions Jeremy arranged of readings for the society at his own residence; these included the less familiar works such as Venus and Adonis and The Rape of Lucrece.
Members of the society quite often appear in public productions elsewhere, and Jeremy could always be relied on to attend and give his support.
The Society has lost a friend of many years.
---
Tributes below are in alphabetical order of surname of contributor.
Jumanne Bailey
So sorry to hear that. How awful.
Jill Batty
How sad that you have had to send these emails in close succession. Both Jeremy and Oliver Williams were truly well respected members of long standing.
Tony Butler
Colin How awful! I've known him since I joined [in 1986 ? 88 ?] and he was so totally open and knowledgeable and had wide circle of sharing people. What a blow.
Chris Cummins
I'm very sorry to hear of Jeremy's passing. It is so sad. The Society has lost two stalwarts in quick succession.
Alex Darter
I am a friend of Jeremy Trafford's. I'm very sorry to say that Jeremy was taken ill with Covid-19 in late March and sadly passed away shortly afterwards.
I'm so sorry to be bringing you this news, and for the delay in relaying it. Jeremy was an incredibly popular man with hundreds of friends, so it is taking a while to contact everyone. I have been his flatmate for 16 and a half years and still can't believe he's gone - its so sad.
All the very best
Brian Eastty
So sorry to hear this. He was such a lovely man. I will miss seeing him at our meetings.
Roger W. Haworth
How very sad. I found these two items on the web giving evidence of his colourful life: Guardian obituary and a movie about his second marriage.
Dorothy Holmes
Double shock. I feel very sad two wonderful people: Oliver Williams and Jeremy.
Carrolle Jamieson
Succumbed to the virus! Awful! I am so sorry - Jeremy Trafford was such a lovely, valuable man. I am gutted that I missed so many of the last meetings. God Bless us all and please God do not take any more of us!
Carolyn Lyle
I am so sorry to hear this,. I knew him as a wise and inspirational guide to Shakespeare and I shall regret his loss. Please could you pass this on to his family?
Rosemary Macvie,
Thank you for the sad news about Oliver Williams and Jeremy. Poor Jeremy, he really was not looking with it at the last meeting, there was a brief notice in the Telegraph Obituary on Friday so gather he did have family - hope someone is looking after his dog!
Roli Okorodudu
My condolences- I loved his readings and company at the meetings. More sad news. Thank you for letting me know. Roli
Bernard O'Sullivan
I am sorry to read this further sad news.
John Ronayne
Oh no! Poor Jeremy. "The last bohemian of Earl's Court" as I once heard him called. I think he read English at Cambridge in the 50s. His introduction to our Sonnets night in 2016 was a gem. As you mention, he supported others, including sitting in the front row for George's Antony and Cleopatra at Stockwell Playhouse 2018.
Roger Sansom
I am deeply sorry to hear this. Again, best wishes to all.